My earliest memory of using a water filter is having a Brita on the kitchen countertop. This was around 2006. I think I also experimented with a Pur water purifier, perhaps because the design was appealing. Back then I didn't know much about water filtration systems except that it felt important to have one while living in Los Angeles. My knowledge grew after starting Eco-Vegan Gal in 2008, which is when I was dedicated to researching health and sustainability.
Why Using Water Filters Is Important to Me
They remove unsafe contaminants such as chlorine, arsenic, mercury, lead, pesticides, and herbicides. Some filters can also take out bacteria and viruses from water
Drinking water tastes better and shower water feels better on skin and hair
Using a water filter at home saves money on water bottles and helps eliminate the number of plastic water bottles used
Improves indoor air quality from reduced contaminants in the water
Provide healthier water for pets (like my dog Evie!)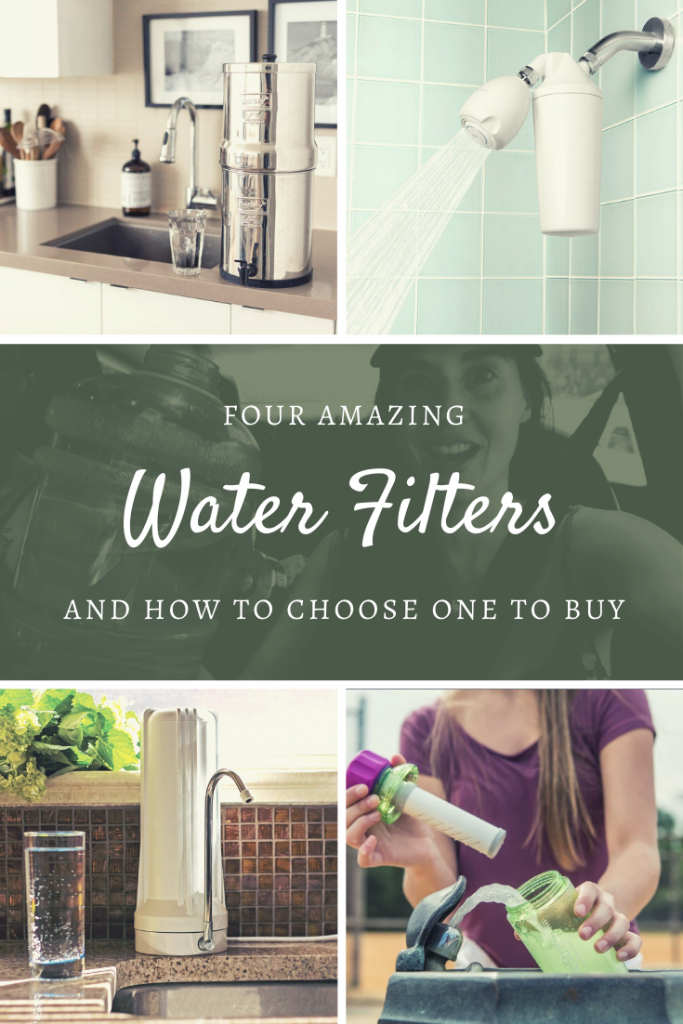 What Filters I Use (and why)
This might seem a little nuts: I have four different water filters (from four different brands) at home because each serves a specific purpose. Here's a summary and review of each of them:
Berkey countertop – In 2014 I was ready to get a serious water filter. After mentioning it to my then-boyfriend, now-best-friend/business partner Jason Wrobel, he bought me a Berkey for my birthday (what a generous guy). This countertop water purifier was recommended by our friends and health experts Ron and Lisa Beres, who definitely knew what they were talking about because the Berkey is fantastic. The drinking water tastes great, the cleanable filters only need to be replaced once every few years (depending on how often you use them), and my favorite part: the model I have is perfect for anywhere I'm traveling via car because it's portable. Note: Berkeyfilters.com can't ship directly to some areas of the country, so buy on Amazon if you run into an issue.
More info on Berkey:
Aquasana shower filter – This was recommended to me in 2013 during my healthy home consultation with Ron and Lisa. You can watch them explain why they recommend this brand in our YouTube video. I love the way my skin feels when I shower with this filter and I also really like the auto-ship option (they automatically send a new filter every six months). If you wanted to buy different types of filters from the same brand, I recommend purchasing from Aquasana because they have it all. Check out their Reverse Osmosis under the counter system and Countertop filter too.
New Wave Enviro countertop – Before I got the Berkey, I had this system, mainly because it is affordable. Though I don't use it for drinking water anymore, I kept it attached to my faucet so I could easily rinse off produce. If you're looking for a good starter filter that attaches to your faucet (so much easier than refilling a countertop model), I recommend this 10 stage system. It doesn't filter as much as well as the Berkey or Aquasana models, but it helps get rid of the major water contaminants. Plus, this company is that they're small, family-owned and run by amazing people I've known for years.
LifeStraw – When I travel I do my best not to use plastic water bottles. I bring my own reusable bottle and seek out filtered water to fill it up. However, this can be tough at airports (not all terminals have filtered water stations) and on planes (some airlines insist on handing out bottled water instead of filling up bottles). Not to mention hotels, AirBNBs or the homes of friends and family members who don't own water filters… Thus, since 2018, I always bring a LifeStraw with me when I travel. I have the Universal model, which is great because it attaches to all the water bottles I own. I also have the Flex model because it's super compact when not in use. LifeStraw doesn't filter as much as a home model, but it's better than nothing when on the go! Big bonus to this brand: with every product sold, a child in need receives safe water for an entire school year.
Before You Buy A Filtration System
Get your water tested to find out what's in it and check water reports for your area to see what's in it. There are a lot of factors that determine what you need, such as where you live, what condition your pipes are in and what your pipes are made from. Aquasana has a helpful section on their website about water testing.
In order to help make a decision on a filter, find out what contaminants are in your water then look at the above options to ensure that the filter you buy removes them.
I used Water Test America, based on Ron and Lisa's recommendation. It was very thorough and comprehensive because it tested for over 150 different contaminants. It was also quite affordable at $97 (in 2013). I also tried out Test Assured at my parent's well water in Massachusetts, which checked for levels of lead, pesticide and many other chemicals in minutes and retails for only $35.
It's also important to examine the space you'll use the filter and how you want to access drinking water. Do you want room temperature or chilled water (on the counter or in the fridge)? Do you mind if the filter is visible on the counter or would you prefer it hiddle under the counter?
Lastly, a lot of people buy filters based on price. The best systems tend to be a longterm investment that literally pays off over time. And don't forget to factor in the long term health benefits.
Want to learn about the products I use?
Check out my Amazon store to see all of my favorites!
disclosure: affiliate links are used in this post, which means that I may receive a commission if you buy based on my recommendation. This is at no additional cost to you and I only refer products that I personally use and trust.